Moodle is a Learner Management System – LMS and may be thought of as a system through which you can publish resources that you want students to interact with.
You can then monitor how these resources are used.
The great thing with Moodle is that it works with many other services, and you can customise how your resources look.
You can use Moodle simply as a document library/repository, or you can take it much further and develop courses and resources through which you can measure progress. You may set up a resource such that a student cannot move on to the next item until they have achieved a certain grade in the current resource first. You could record course grades, and use Moodle to release those grades as and when you want the students to have them.
Through the Moodle Gradebook, simple and complex grades can be carried out, and then finally exported in Excel format ready to be entered into Evento.
To access the FHNW Moodle platform, click here.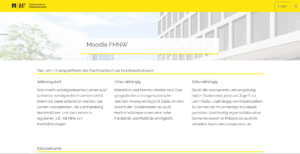 Maths and Engineering notation can be accessed via Latex script. Read more here.
To open a Moodle course, or to raise any issues that you may be experiencing with Moodle, please contact firstlevel support Paul Raper
Current Moodle status is shown here.
Support
Tel: +41 56 202 8171